Super PACs
---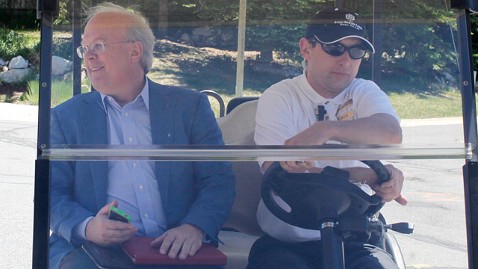 -By Arlette Saenz and Shushannah Walshe
June 24, 2012- Mitt Romney's donors attended a golf outing today at the Red Ledges Gold Club in Heber, Utah, but the excitement was really what went on Friday and Saturday at the events and panels. Romney's top donors were treated to panels on specialized policy topics, such as healthcare or the financial services industry, heard speeches from stars of the Republican Party, such as former Secretary of State Condoleezza Rice and former Florida Gov. Jeb Bush, and were granted access to the presidential candidate's senior advisors for information about the inner workings of the campaign. All events were closed to reporters, but ABC News has the rundown of some of what these donors were privileged to hear.
-By Sam Stein
June 21, 2012- The Obama campaign's top lawyer fired off a letter to Karl Rove Thursday, demanding a retraction of a "mystifying" comment Rove made and raising questions about his upcoming appearance at a Mitt Romney campaign event.
The letter is the second that Bob Bauer has sent to Rove this week. The first argued that Rove could no longer insist that his advocacy group, Crossroads GPS, was policy oriented -- a distinction that allowed it to shield the names of its donors. The follow-up letter, obtained by The Huffington Post, makes that same point, arguing that there is no "social welfare" component to the group's operations.
-By Peter H Stone
June 16, 2012- Casino billionaire Sheldon Adelson, whose net worth makes him one of the world's richest men, is on a check-writing spree that will soon bring his total political contributions in this election cycle to at least $71 million, according to sources familiar with his spending. That money is spread across the spectrum of GOP super PACs, which are required to disclose donors, and nonprofits, which are not.
Adelson and his wife, Miriam, along with other family donations, have already reached $36 million, including $10 million to the Romney-backing super PAC Restore Our Future that was reported this week. But two GOP fundraisers familiar with his plans say that Adelson has given or pledged at least $35 million more to three conservative nonprofit groups: the Karl Rove-linked Crossroads GPS, another with ties to billionaires Charles and David Koch and a third with links to House Majority Leader Eric Cantor (R-Va.).
-By Philip Elliott (Associated Press)
June 15, 2012- WASHINGTON — Sen. John McCain said in an interview posted online Friday that "foreign money" was helping fellow Republican Mitt Romney's presidential hopes and singled out one of his ally's most generous supporters.
-By Philip Elliott (AP)
June 15, 2012- Sen. John McCain said in an interview posted online Friday that "foreign money" was helping fellow Republican Mitt Romney's presidential hopes and singled out one of his ally's most generous supporters.
-By Katrina vanden Heuvel
June 12, 2012- Writing for the majority in the Supreme Court's Citizens United decision, Justice Anthony Kennedy argued that independent expenditures by corporations "do not give rise to corruption or the appearance of corruption."
Since then, Super-PACs and corporations have spent record amounts of money in elections nationwide. Corporate spending soared during the 2010 election cycle to $294 million, 427 percent over the previous midterm elections in 2006. Supreme Court Justices Ruth Bader Ginsberg and Stephen Breyer both suggested that given these "huge sums currently deployed to buy candidates' allegiance," Kennedy's assertion doesn't hold and the court should reconsider its ruling.
-By Dan Froomkin & Paul Blumenthal
June 9, 2012- WASHINGTON -- Secret campaign money is making its big comeback in 2012, playing an important role in a presidential election for the first time since corporate titans flew into the nation's capital in the early 1970s carrying satchels of cash for Richard Nixon's slush funds.
For the country's top political consultants and media buyers, that means a huge new revenue stream -- and long shadows to hide in.
Campaign committees and super PACs need to report to the Federal Election Commission who they pay and how much they pay them. According to a Huffington Post analysis, the top 150 consultants and media buyers have already grossed $466 million so far this election cycle.